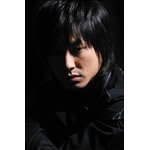 출생
1977년 11월 26일 / 미국
데뷰 (Debut)
2000년 (비트겐슈타인 A Man's Life)
별명 (Nickname)
Bummer
종교
기독교
취미
음악, 스노우보드, 웨이크보드, 스케이트보드
특기
Cleaning, Pool, Building(Fixing things, Skateboarding)
학력
- Rutgers University (Graduate), Business(Major)
가족
2남 중 장남
신체조건
180cm, 65kg
프로필
넥스트 이전 활동사항

BANDS->
1) Love Milk 1990-1992 (Funk Rock)
2) Passion Green 1993-1996 (Grunge)
3) Kreon 1996-1997 (Hard Rock)
4) LU 1998-1999 (Alternative Pop/Rock)

성격(장,단점): Quiet but Crazy
어릴적 꿈: KISS Guitarist
좋아하는 계절: fall
감명깊게 본 영화: Exsorcist, Excalibur
좋아하는(존경하는) 뮤지션: Radio head, steviv Ray Vaughen,

Jimi Handrix, Rage Against the Machine

음악을 하게된 동기:

As a kid I always loved to play "air" guitar, while listening to kiss and the Beatles. Then, at age 12, I saw someone play a real guitar and was completly entranced after that moment I begged my power to buy me a guitar, and finally got me. Thus began my voyage into the realm of "Rock Music"
'데빈 리' 의 음악 활동
OK PUNK! (2012)
with 이태선, 이현송, 김현우, 김옥빈, 김슬옹

닥터코어 911 (2008)
with 문이경민, 쇼기, Juny, G.ru, 김동혁

넥스트 (2006)
with 김세황, 김영석, 신해철, 이수용, 지현수

넥스트 (2004)
with 신해철, 원상욱, Juny, 김동혁

넥스트 (2003)
with 신해철, 원상욱, Juny

Wittgenstein (2000)
with 신해철, ViNK
'데빈 리' 과 같이 음악했던
아티스트의 다른 음악 활동
음반 정보 등록 신청